Mexico is a lot more than tequila and tacos, the country is home to the largest expat American population in the world with around 1.6 million Americans living in the country. Mexico ranks #1 by Expat Insider in 2023 based on the surveyed experiences of expats. The natural beauty of Mexico, amazing food and better weather attracts a lot of veterans. Mexico isn't for every veteran, but the low cost of living, proximity to the US, and culture is making a lot of veterans think about a one-way ticket. American veterans living in Mexico are doing more than surviving – they're living.
Veteran Healthcare
I toured Lakeside Medical Group, a medical organization that treats veterans throughout the country. They accept Tricare, ChampVA, Medicare Advantage and treat service-connected veterans through the Foreign Medical Program (FMP). The staff their encourages veterans thinking about Mexico to get registered with the FMP before going abroad. It's important to note two things. First that only service-connected disabilities can be treated in Mexico through the FMP which includes disabilities rated at 0%., Secondly that emergency treatments aren't covered for veterans in Mexico through the FMP.
If a veteran is rated at 100%, they encourage veterans to get enrolled in Medicare Advantage to have coverage in an emergency. Lakeside Medical Group is owned by an American veteran and has operated in Mexico since 2013. Their headquarters is in Lake Chapala and they operate locations throughout the country focusing on expat healthcare.
You can check out Lakeside Medical Group as well on Facebook, Instagram and email them your specific medical questions at: info@lakemedicalgroup.com They do not offer any relocation services, only healthcare.
American Legions in Mexico
There are many American Legions throughout the country. The one in Lake Chapala I recently visited puts on one major event a month and has been in Lake Chapala for over 60 years, which is incredible. These posts also do a lot for local communities as well as forming communities for veterans abroad.
Interview with Jason, a veteran living in San Miguel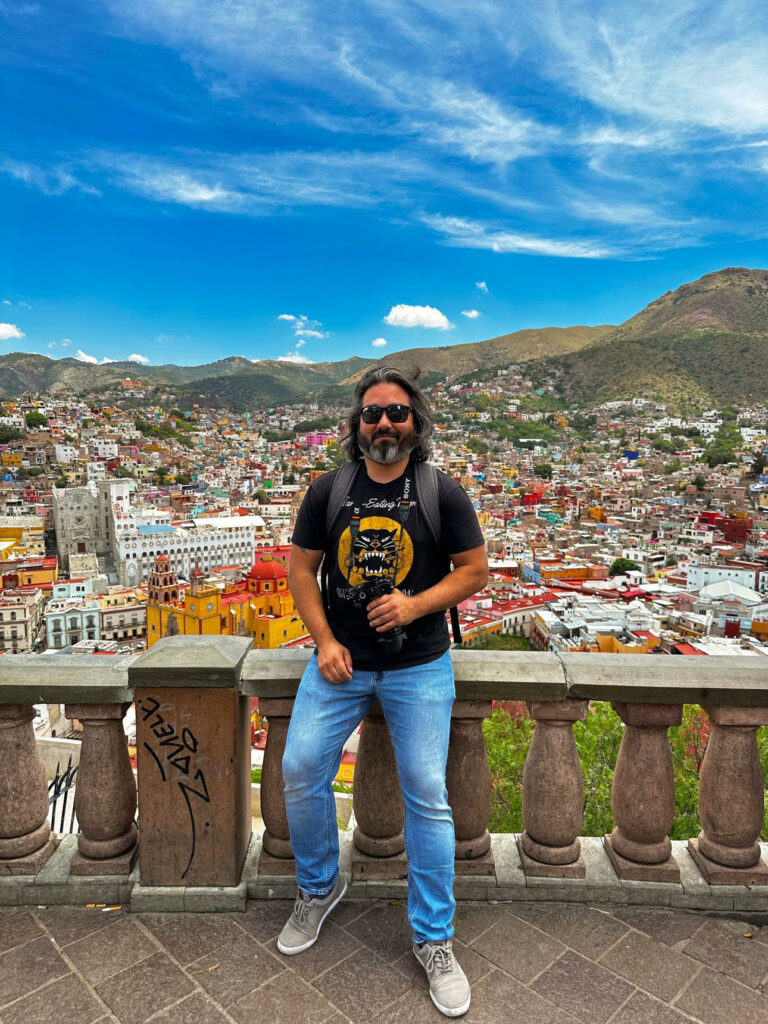 What's changed in your life since moving to Mexico?
I've got a lot less daily stress in my life. I feel mentally and emotionally healthier during the day. I was able to come off the PTSD meds I've been on for years.
Why did you move to Mexico?
My mental health was in the gutter. I had an extremely difficult time adjusting back to civilian life after I finished up in the military then got into overseas contracting, which is also very militaristic.
What's the best part about living in Mexico?
The people and the culture. Mexicans celebrate almost everything and you have to look really hard to find food that sucks here. It's fresher food, cheaper, and healthier. There's no urge to eat toxic fast foods and there's an outdoor restaurant culture.
You're using your GI Bill in Mexico, how's that going?
I'm currently rated at 90% from the VA and utilizing my GI Bill. So I get an extra $1,800 a month which enables me to live really well here in San Miguel. I came here with zero Spanish ability and am doing a Spanish language program at Instituto Allende in San Miguel. The teachers and the staff are great and there are other veterans in the program, now I'd say after 7 months I'm up to intermediate level Spanish. (Check out this Facebook Promo by the Institute for US veterans using their GI Bill.)
What's your advice to veterans considering relocating to Mexico?
Don't let the media or news scare you about Mexico. I moved here sight unseen and have zero regrets. I'm the happiest I've been post service, we earned our benefits. Why not use them to live a better life?
Cost of Living
Here is a summary of potential cost of living in Mexico in 2023, according to Numbeo:
A single person estimated monthly costs are 13,081.4MXN without rent. ($720)
Cost of living in Mexico is, on average, 46.8% lower than in United States.
Rent in Mexico is, on average, 72.0% lower than in United States.
NOTE: Most cities you'll want to live in as a veteran are going to be a higher than above numbers. Go to Numbeo and you can search specific cities, as well as compare cities. As a check, go use the comparison tool to compare your city in the US to your ideal city in Mexico or wherever else in the world. It's fun to click around a bit on there.
There are many cost of living calculators for Mexico for you to check out.
Cost of Living.ORG Mexico Cost of Living
International Living.com Mexico Cost of Living
Expatistan Cost of Living Mexico
My Budget in Puerto Vallarta
Monthly Rent: $650 for a nice one bedroom
Utilities: $90
Gym: $35 at Big Apple Gym (Great gym scene all over PV)
Groceries/Household items: $250
Alcohol/Entertainment/Eating out: $450
Cell Phone: $180 (I have a Verizon international plan)
Transportation: $0 (Walked everywhere)
Netflix/Spotify: $25
Supplements: $100
Laundry: $25
Check out my TikTok where I have some videos and information on Veterans in Mexico.

Total: $1,805: This is me going out to eat a lot, doing a snorkel and an atv excursion and not really trying to budget. PV also happens to be one of the more expensive cities. If you're retired from the military or rated at 100% from the VA you can live a comfortable lifestyle in Mexico.
What I see some veterans doing is often improving their lifestyles and ending up living a far higher quality life around the same price range they were living in the states. What I mean by that is veterans hire maids, gardeners, go out to eat most nights, live in a nice house with a pool, get massages and more. Because things are cheaper they become more attractive, but I also talk to veterans who live on $1,500 a month with no issues in Mexico and a few that said they get by on $1,000. Speaking Spanish helps keep costs down and gets you more local prices. The lower cost of living is only one benefit, escaping the stress of the states, excellent weather, beautiful beaches and world class food are part of the package as well. Veterans living in Mexico should enjoy themselves.
Immigration
One of the cool things about Mexico is that you're good to go as a tourist for 180 days when you come into the country. That provides you plenty of time to figure things out, explore different areas and see if Mexico is a good fit for you. Honestly, some veterans just do what's called a "border run" and leave the country for a day or two then come back and get a new 180-day stamp. That may become problematic eventually and sometimes they'll deport people. Snowbirds that live in Mexico half the year just go and come back like this.
The step up from that is the Temporary Residence Visa. To obtain one of these you'll have to show an income of $2,500 a month or savings of $41,000. That's valid for one year after you get it and can be renewed for up to 4 years. I don't like to dive too much into Immigration stuff because it changes and everyone has different circumstances. The best all around source for veterans relocating to Mexico is to look at Sonia Diaz Mexico, who is an expert on relocation and offers immigration services. They also have a book called the Move To Mexico Bible, which is updated yearly with new information and costs 10 bucks on Kindle. There are many visa options and ways to go about living in Mexico.
"Life is more fun here and having fun is treasured in Puerto Vallarta. We accept one another, knowing each person is different and we value that difference as being beautiful."

US veteran David Lord, a VSO working in Mexico quoted from the Banderas News.
My Top Cities
Puerto Vallarta
San Miguel de Allende
Mérida
Cabo San Lucas
Guadalajara
Cancún
If you have a favorite city for veterans hit me up on Instagram and let me know why
Conclusion
If you want to dive into more information about living in Mexico. I'd first look at this Expats in Mexico Facebook Group. Every area in Mexico will also have a specific Expat group, for example if you type in Expats in San Miguel, where Jason lives into Facebook you'll see Expats, Newcomers & Friends- San Miguel. Living in Mexico or abroad isn't a vacation every day, there are downsides. I've learned living abroad that veterans are adaptable people and accept that not everything is within our control. That makes us more suited to live abroad and we tend to be more practical based on our training about personal safety.
The Mexican people have always been welcoming and friendly everywhere I've been. Follow me on Instagram where I'll post more information about living abroad and more country guides. If Mexico doesn't sound like your thing, check out my guides on Costa Rica and the Dominican Republic for veterans. I'll have more country guides up in the future.

If there's anything you think should be added to this article to better inform veterans about Mexico, let me know. I'll be doing more videos and content on my TikTok: Combat.Vet.Abroad and putting out information about other countries for veterans. I'd like these articles to be evolving information and to provide an accurate resource for veterans contemplating moving abroad.
John's Note: My mission is to provide positive information for veterans about living abroad, resources and information. There are no affiliate links in any of my living abroad articles. I believe sometimes veterans can be healthier and happier outside of the United States. There's no running away or escaping your problems. But often times, you can heal, grow, and find peace abroad in ways you can't in the USA. If you're struggling with your mental health, I'm here for you if you want to talk. You can also contact a veteran organization or chat with the Veterans Crisis Line.
Share This